Baraka MP (*Alfabia Ajib x Om El Belinda Estopa), and breeder/owner Mindy Peters.
Berlin MP (SMA Magic One x Baraka MP), 2018 stallion bred and owned by Mindy Peters. This year, Berlin has welcomed his first foal crop, and been named 2022 Scottsdale International Champion Stallion and World Cup Champion Silver Champion Stallion.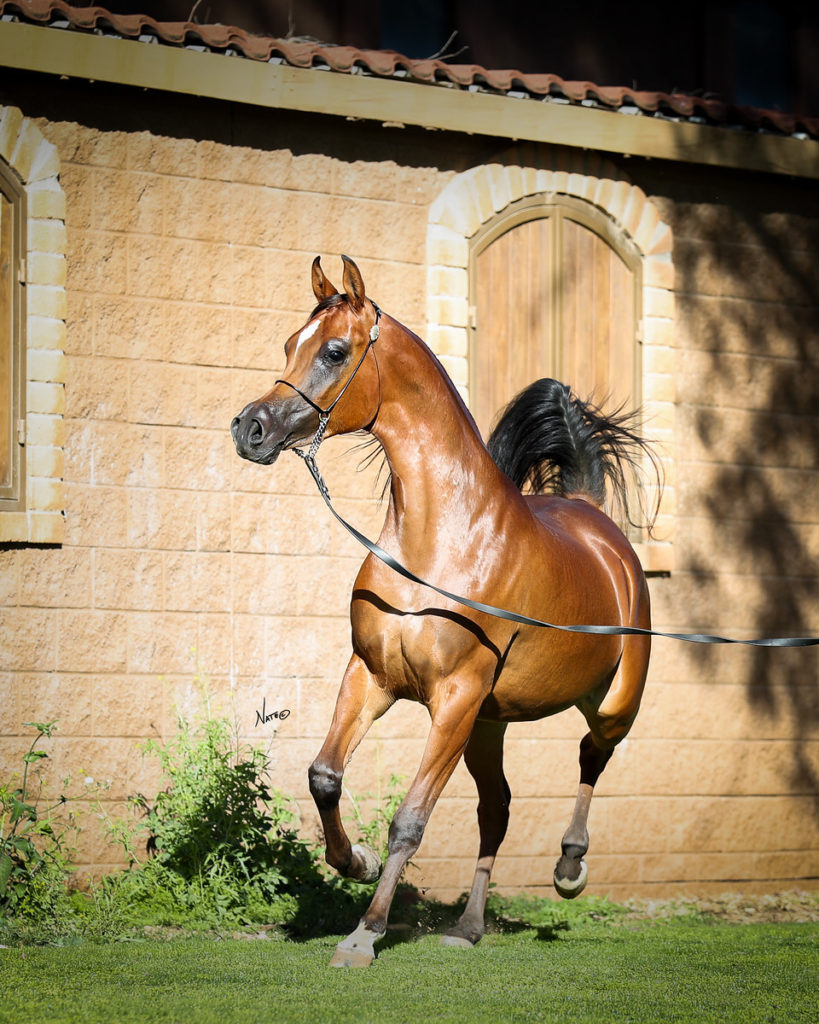 Bellina MP (SMA Magic One x Om El Belinda Estopa), 2018 mare.
Berlin MP (SMA Magic One x Baraka MP), 2018 stallion bred and owned by Mindy Peters.
Om El Belinda Estopa (Om El Shahmaan x Om El Beneera), dam of Bellina MP (by SMA Magic One).
Baraka MP (*Alfabia Ajib x Om El Belinda Estopa), dam of Berlin MP.
Om El Exquisit (*Sanadik El Shaklan x Omel Bint Shaina), 2003 stallion, and owner Mindy Peters.
Hama Mudhar MP (Dominic M x Baraka MP), 2021 colt bred by Mindy Peters, and now owned by Sheikh Hamad bin Ali Al Thani of Qatar.
Nikita PF (Eden C x Desiree BHF), 2017 mare, with Mindy and her son Jordan Heathcott, who is also an Arabian enthusiast, with a special interest in the halter world.
The gelding Fame AJF (WH Justice x Toscana PGA) with Mindy and her daughter Kendyl, an equestrian in her own right.
Mindy Peters was born into the Arabian horse world, and over the years has bred and owned over 150 Arabian horses and enjoyed international sales and numerous championships with her homebreds. Her introduction to the breed was grounded in mares of Ferzon and Azraff lines, along with the "it" stallions of the late 1970s and early '80s, such as Bey Shah, GG Jabask and Ali Jamaal. Add to that foundation, the influence of Mindy's worldwide search for inspiring horses to incorporate into her program.


The result is an Arabian show horse that would be at home in any showring in the world – for example, Mindy's homebred stallion Berlin MP (SMA Magic One x Baraka MP), who was named 2022 Scottsdale International Gold Champion Stallion and World Cup Silver Champion Senior Stallion.


After several years in the Santa Ynez Valley, Mindy is currently leasing a facility in Cave Creek, Arizona. "I love it here," she says. "Business-wise it's a huge difference. I've had 10 showings in the past 10 days. A couple of trainers have been out to see the new foals two or three times already. In Santa Ynez, I was lucky to get them to come out once a year. And all these visits have resulted in about 50 breedings sold for Berlin." We recently visited with Mindy and asked her to share her thoughts on the art of breeding Arabian horses.


Tell us about the moment you knew that Arabian horses would be a part of your life.


My grandfather, Ed Brinkert, was a huge influence on me. He had about 60 Arabians at his farm in Iowa, most of Ferzon and Azraff breeding. When I was about five years old, he walked me out into one of the pastures to see the group of white mares. The grass was almost as tall as I was. One mare lowered her head down to me and breathed in my face. She blew my hair back! It was love, instantly, because I felt her gentleness even though she towered over me. I will never forget her big black eyes, her sculpted face and all those things that my grandfather loved and appreciated about the breed. And I think that look is what has guided me my whole life.


My grandfather was a stickler about teaching me all the basics, and he and I talked for hours and hours about pedigrees. To this day he is one of my favorite people, and I wish he was still alive to share these moments with me. I think he would have loved Berlin. That's his kind of horse.


Berlin's success must be all the sweeter since you bred and own his dam, Baraka MP (*Alfabia Ajib x Om El Belinda Estopa), and also own his grandam. Please tell us how that mating came to be, and share your plans for Berlin.


This cross had been made once before by Aljassimya Stud when they leased some mares from me. The result was Berlin's full sister Sweira Aljassimya, who won unanimous Gold Champion at Menton, and has gone on to win four more unanimous gold championships in Europe. I love so many things about this filly and could not wait to repeat that breeding myself.


I've had three fillies by him so far this year, and all are absolutely gorgeous. I could not be happier. They are exactly what I envisioned. Based on my foals, and others owned by clients, it appears that Berlin is putting on upright necks and length of leg. The faces are extreme. And they have real ground-covering motion, are free in the shoulder and have good hocks. My expectation is that they will be beautiful halter horses as well as functional performance horses. We'll see if they get his size – he is 16.1h as is his dam.


I have two more 2022 Berlin foals coming (UPDATE)
After his recent showing at the World Cup, breeding inquiries are pouring in from all over the world. So he's going into quarantine for international semen shipment. We will start him under saddle soon – I can't wait to ride him. He is the sweetest, kindest, best-minded horse.


You currently have 10 mares of breeding age. What qualities of conformation, temperament, and pedigree must a mare possess to be included in your breeding program? Please give us examples of mares that best embody that ideal.


I am a big believer in good overall structure. There also must be harmony in all the parts of a breeding horse, with maybe one or two extreme elements. I really love overall balance and length of leg, large eyes and a good shoulder. I also like my horses to be good movers. And I love a pretty face.


I like a variety of pedigrees. Temperament is important ­­– my horses all have great minds. It is partly due to the way they are handled – I am very aware of their happiness. I believe they need to get out of their stalls daily and have pasture time. Arabians are good-tempered horses as long as they are treated fairly. I wouldn't want to breed to a horse that does not have a good temperament.


Describe the one horse you've bred who has come closest to your ideal of the Arabian horse.


Either Baraka MP or Berlin MP. You know the soundtrack for the "Black Stallion?" That's what I hear when I see Baraka move. She is the wind in the desert. Baraka has great conformation, but even more important is her presence.


Any mares you wish you could have? Some bloodlines you would like to try?


I'd love to add a little more Russian blood, maybe just a touch on a tail female line. This has been quite successful in some of the European horses that I really admire, such as: *Mozn Albidayer (*SMA Magic One x Mattaharii), Inspired Najla (Ajman Moniscione x Natalia), *Najdah Al Zobair (*Marwan Al Shaqab x *JFN Bint Ludhan), Alamina (Om El Bellissimo x Almaden), and just about any of the mares from Al Waab Stud.


What is your ideal number of foals in a given year?


Where do you find buyers for your horses?


All over the world – social media, travel, shows, trainers, farm visitors.


Which horses will you never part with?


My core group of mares, and especially Baraka MP.


Walk us through your stallion selection process, as you weigh such factors as the quality and marketability of a stallion's foals, and his compatibility with a given mare. What are the "must haves" in a stallion that you use?


I spend sleepless nights imagining each cross. I study videos, pedigrees, make personal visits, and check progeny. I spend endless hours trying to learn more all the time. Also  it depends on whether I'm looking to breed a show horse, or something I want to keep solely to breed. In the end, it's also just a vibe.


Has a great mare ever disappointed you as a producer? Has an average mare ever surprised you as a great producer?


Your best sale — not only in terms of dollars, but in terms of enhancing the reputation of your program and in building future sales?


Two of my DA Valentino daughters went to the Middle East where they became great producers and good representatives of my program.


Do you invest only in sure things, or do you occasionally take a flyer on a horse or a breeding?


I've gotten more disciplined about what I'll invest in, but of course I do take risks at times.


Who is the most memorable Arabian stallion that you have ever seen?


I have seen some spectacular stallions, but I wouldn't necessarily breed to them, either because of faults I could not overlook, or because I just didn't trust them as breeding horses.


Recently I bred mares to *AJ Radman (AJ Mardan x AJ Rahifa). He's very pretty and sexy, and I like what he is siring. I love that his pedigree goes to two of my favorite stallions: Vervaldee and Ajman Moniscione. I never had the chance to breed to Versace, so the fact that Radman brings in a line to Versace is also appealing to me. His get tend to be more horizontal, so I will give him mares that are more upright and short-backed. He's a young stallion and his offspring are young, so I don't know how they are going to grow up, but I will try him with a couple of my mares and see how it goes. I believe he has things to contribute.


I am also using Dominic M (Da Vinci FM x Rosa La Valentina). He is an interesting horse and a great sire. I love his pedigree. If you give him a mare that has attributes he lacks, they will come through. He gives length of neck, and huge eyes. I will breed Baraka MP and her half sister Bellina MP (SMA Magic One x Om El Belinda Estopa) to him.


Another stallion I would like to use is Excalibur EA (Shanghai EA x Essence of Marwan EA). I like his daughters, and I know exactly what kind of mare to breed to him. He's a horse that I have grown to appreciate with time as he has come into his own. Of course that is typical of the Arabian – they mature slowly.


Probably everyone wishes they could have bred to *Bask. And I would have loved to use Bey Shah, Ali Jamaal and some of the Ansata stallions.


What is your breeding advice for those who nurture the dream of "a few good mares and a small breeding farm" and the anticipated success thereof? Some do's and dont's for those dreamers? Can it be done without an Om El Belinda Estopa for instance?


As my grandfather said, "The ugly ones eat just as much as the pretty ones. Make sure you're always feeding pretty horses."


Be diligent and seek advice. Get as much information as you can from fellow breeders. Disappointments happen and it is not a journey for the faint of heart. Don't start by buying too many horses. Think about what your ideal horse is. Patience is key, but a Belinda Estopa or a Veronica GA really help.


Some people wondered why I bred Om El Belinda Estopa to a then little-known straight Egyptian stallion, Alfabia Ajib. Well…because you might get a Baraka MP! But that came from trusting the dam's pedigree – she goes back to *Estopa four times, and I believed that the strength of her pedigree would nick with Ajib's. I wanted that gene pool in my breeding program – I wanted a breeding horse, not a show horse.


Of course Baraka could be a show mare – in fact she was shown at Scottsdale and won her class. She is a beautiful mare but she is not going to win a bunch of shows in the U.S. However, she is a breeding machine. Her 2021 colt by Dominic M that came after Berlin was sold at the age of two months for six figures to Qatar. When I planned that breeding, in my heart I thought THIS is going to be a show baby.


This year I bred Baraka's dam, Belinda, to *AJ Radman…that's going to be a little show horse! If I was going to breed her for another daughter to keep, I would  breed her to a straight Egyptian stallion.


If you could make time go backwards, what decision regarding breeding and/or acquisition or sale on your part would you change?


I regret buying embryos and unborn foals. I think embryo auctions bring out the competitiveness in some people, and that may drive them to bid. Anytime I've made an impulsive purchase or breeding, I've regretted it.


You have been a regular participant/observer at U.S. and European shows for many years. Please comment on the changes and trends in the breed that you have observed.


The breed went through a transformation in the 1990s when Arabians were more Saddlebred looking. Not really my kind of look, although there were things about those horses I appreciated.


Today, as I travel overseas and here in the U.S., I feel we are approaching the ideal in terms of Arabian type – these beautiful necks and shoulders, and exotic faces. The pendulum has swung to a more classic breed standard, a uniquely beautiful modern-day Arabian.


In terms of the way we conduct our shows, are there things you would like to see change in order to provide more outlets for different types of horses or improve the environment for breeders?


The Scottsdale International classes were a great idea.  And I love the ranch horse classes. Recreational riding and nice intro-level horses have helped the Quarter Horse breed enjoy a resurgence. And Yellowstone! My wish is for a comeback in popularity like the Quarter Horses are enjoying. Maybe it's time for another big box office movie featuring an Arabian!


Where do you think the future for the Arabian horse lies?


The future for the Arabian horse lies with those who love them, and who have the passion to stay and promote this breed, sharing these horses with those who have not yet discovered how precious the Arabian is. The best part about the Arabian horse is that they're right there with you on the journey. They love people. And in that way this horse has helped us to bond with our tribe of Arabian aficionados around the world.


Your fondest wish for a horse sold off of your farm?


I hope that the horses I breed will have careers in performance or breeding. But more importantly, I wish that all the horses leaving my farm are well cared for and loved, because that is how they were raised.