By Allyssa Baird


Set in the modest town of Sandviken in Sweden, Beatrice Hagström and her family live on a quaint farm with two Arabians and her daughters' Shetland pony. At the age of nine, she got her first horse, a white Arabian mare named Nobella (Boros x Wanetta), that she competed in dressage with. "Nobella was a great first pony who taught me a lot," she says. "I had never met a horse or pony as stubborn as she was, nor a horse so wise with a big heart that was willing to do its best for me."


Now 30 years old, Beatrice actively competes at the two-star level in eventing and cross country. "When the cross-country courses aren't rideable during the winter, I show in dressage and show jumping," she states.
Over the years, Beatrice has always been fascinated with the Arabian horse. "Many horses I have met through the years have had the same nice attitude towards their riders as Nobella and I had," she says. "I usually tell others who don't understand Arabians that if they haven't had one as a best friend, they will never understand what a best friend should be like."


The horses that grace this farm in Sweden are JV Pierangeli, a chestnut mare sired by MPA Giovanni, out of Perfecta, and Mackenzie, a white gelding sired by Carwyn, out of an LM Limaal daughter.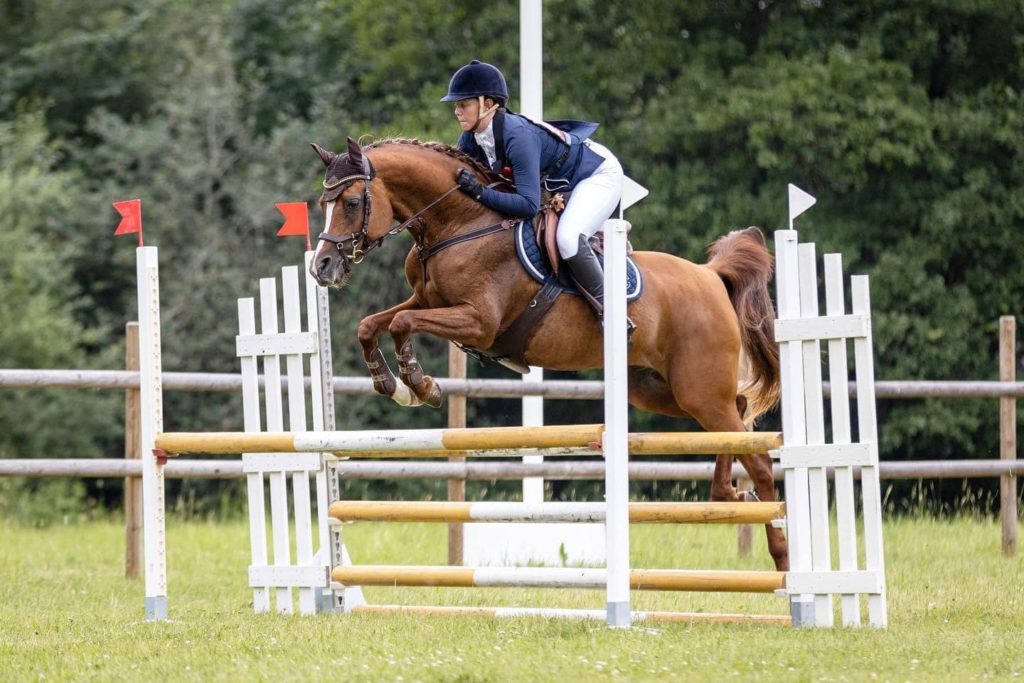 JV Pierangeli, or "Peggy," as she is affectionately known by her family.
JV Pierangeli, known as "Peggy," was born in 2010. Beatrice purchased her from breeders Johanna Ullström and Eva Persson. "It was love at first site. I love her big brown eyes, pretty face, and pointy ears. She is beautiful inside and out with lots of personality," she continues. "She is sensitive, and you must earn her trust to win her heart. But this is typical for an Arabian, isn't it?"


Peggy and Beatrice compete in dressage, jumping, and cross-country. As a five-year-old, they participated in the Nordic Arabian Sport Horse Championships and came in 2nd place. In 2016, she was bred to the Ajman Moniscione son, Nabucco K, resulting in a colt named Paragon JJ. Paragon went on to win Gold Champion Senior Stallion at the Arabian Horse Weekend in 2022. Peggy was named the 2022 Arabian of the Year – Cross Country in Sweden, an award to be proud of.
Beatrice describes her gelding, Mackenzie, as "a once-in-a-lifetime horse with a heart of gold". She bought him at birth from his Swedish breeder, Czima Arabians, in 2012. After competing with Carwyn, his sire, she knew that "Macke" was going to be the horse for her. "As a foal, he was cute, with long legs and a nice gallop," she beams. "He is still cute and loves to be close to me and my family. He prefers to graze in our garden rather than his own paddock."


The life Macke and Peggy live is as humble as it sounds. Beatrice trained them both from the start. She has competed with Macke up to two-star eventing, 120cm jumping, and medium dressage. As a four-year-old, he debuted in eventing, where he was successful. "He was a star! We have countless wins in all disciplines, and so far this year, we have taken top positions in all our competitions," she says. "He loves cross-country like Peggy. He is brave and trusts me in any challenge I give him."
Mackenzie and Beatrice competing in eventing.
Beatrice and Macke have received several Arabian of the Year awards in Sweden. In 2020, they received the Arabian of the Year jumping and cross-country awards. In 2021, they received it for jumping; in 2022, they received the Arabian of the Year – Elite award. "To receive these awards as an owner and rider of an Arabian horse means so much to me," she says. "I am incredibly proud to have two successful and durable horses."


The goal for Mackenzie in the next year will be to qualify in three-star eventing and wish to participate in the Swedish Championships in cross-country in the future. Peggy will also compete in cross-country this year, but the goal will be to breed her to produce Beatrice's next cross-country horse.


These are impressive accolades for an individual who trains and cares for her horses on her family farm. The Arabian has left an impression on Beatrice that will last a lifetime. "I promised both of my horses that their forever home is here with me," she explains. "After all, they are my best friends."